---
GF2000 – Gravitational Splitt FFF
With the introduction of the GF2000 Postnova has launched a new type of Gravitational Splitt FFF. The GF2000 is the first true completely integrated and modular commercial G-Splitt including online optical particle detection. The machine can be used to separate, fractionate, purify and to characterize microparticles in one step. The attached PN3000 XPT detector allows determination of size and shape of the particle fractions eluting from the channel. The system features a broad separation range from 1 to 100 µm depending on sample nature and has the ability to separate different shaped particle fractions from each other. The GF2000 is clearly setting a new standard in the area of microparticle fractionation and marks a real break-through in Splitt science. The system is using Postnova's unique G-Splitt FFF channel which can be re-used and cleaned after operation. Special pumps deliver and control all necessary in- and outlet flows and the attached PN3000 XPT detector provides further information about the particle fractions via its powerful software.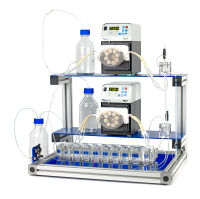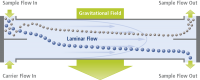 True Preparative Microparticle Fractionation
The GF2000 Gravitational Splitt FFF allows continuous separation and fractionation of microparticles by size and density. It is possible to collect mg to gram quantities and reach preparative scales. Samples can be purified and cleaned and purity and through-put can be controlled by the applied flow rates.
Broad Separation Range
The system is using a gravity field and thus can separate microparticles from about 1 to 100 µm in typical aqueous based carrier solutions. A resolution of 1 µm size difference can be achieved for smaller particles.
Gentle Separation Conditions
Because of the open channel and the absence of any stationary phase the separation in Splitt FFF can be performed under the absence of shear forces and stress avoiding particle aggregation. Also various aqueous based eluent liquids can be used so that the ideal conditions for suspending the particles can be maintained.
On-Line and Off-Line Detection
The GF2000 system can be easily hyphenated on- and off-line to additional advanced detection systems, such as Absorbance (UV/Vis), Fluorescence (FLD), Dynamic Light Scattering (DLS), Optical Particle Detection (XPT), X-Ray, Laser Diffraction and Microscopy. The Splitt separation significantly reduces the particle sample complexity and by investigating the separated particle fractions these detection systems can provide more and better results compared to using them without any front end Splitt separation system.
NovaFFF XPT Particle Detection
The GF2000 has an online coupled Optical Particle Detection system, PN3000 XPT, as back end. This detection system allows to completely characterizing the separated particle size fractions as they elute from the Splitt channel. The included software allows determining the particles size, shape and number as well as the collection of pictures of each particle fraction.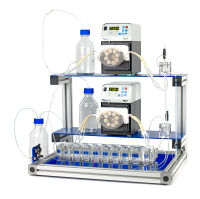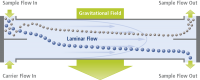 Applications, Application Notes and Publications:
Proteins, Antibodies, Antibody Aggregates, Viruses, Liposomes and Drug Delivery
Diatoms/ Sediments/ Algae
Pharmaceutical Capsules
Ceramic Spheres
Carbon Black Impurities
Fiber Detection
GF2000 – Standard System
---
System Dimensions:
46.5 x 10.5 x 12.5 cm
Channel Dimensions:
Length 20 cm, width 4 cm, Thickness 380 - 1150 µm
Weight:
6.8 kg
Flow Rate Range (typical):
1 - 100 mL/min at back pressure < 2.5 bar
Particle Separation Range:
1 - 100 µm
Pumps:
2 peristaltic pumps for sample introduction and carrier feed flow
PC Requirements:
Windows; min. 32 MB RAM for the control of the peristaltic pumps
Compatible Solvents:
Aqueous solvents only
Sample Throughput (typical):
1 - 10 g/h; depending on sample density; amounts quoted are for samples with density greater than 2.5
Sample Concentration (typical):
1 % solids
GF2000 – High Throughput
---
System Dimensions:
175 x 22 x 12.5 cm
Channel Dimensions:
Length 100 cm, width 14 cm, thickness 380 - 1150 µm
Weight:
55 kg
Flow Rate Range (typical):
10 - 2000 mL/min at back pressure < 2.5 bar
Particle Separation Range:
1 - 100 µm
Pumps:
1 peristaltic pumps for sample introduction and 1 FMI type metering pump for carrier feed flow
PC Requirements:
Windows; min. 32 MB RAM for the control of the peristaltic pumps
Compatible Solvents:
Aqueous solvents only
Throughput (typical):
100 - 500 g/h, depending on sample density; amounts quoted are for samples with density greater than 2.5
Sample Concentration (typical):
1 % solids