---
PN4020 Channel Thermostat
For one thing, many Flow FFF separations require sub-ambient temperatures for sufficient stability and to prevent microorganisms or grow. On the other hand, especially polymer separations benefit also from elevated temperatures up to 90°C.
Every Flow FFF separation is a function of temperature and stable retention times can only be guaranteed if the channel temperature is not influenced by laboratory temperature fluctuations. Obviously, temperature control will also help to comply with GLP requirements. Remote control is possible via conventional I/O and via the serial RS232 port.
Ideal for Flow FFF Separations
The Postnova PN4020 Flow FFF Channel Thermostat ensures this and offers precise and stable temperature control ranging from 5ºC up to 90ºC to bring even your most demanding FFF separations under control. The unit allows achieving a run to run reproducibility which is not possible with other designs. The forced-air concept with large front door allows easy access to the Flow FFF channel and offers maximum flexibility and ease of handling. Forced air heat-exchange is the most convenient way to control the Flow FFF channel temperature. In contrast to heater blocks there is maximum freedom for different channel dimensions and unlike water jackets you have easy access to the Flow FFF channel column. Even the injection valve can be mounted in the thermostat!
Safe and Stable Design
The selected channel temperature is maintained within as little as ± 0.1°C to guarantee maximum precision of retention times. The large area heating/cooling elements provide excellent temperature distribution and avoid hazardous "hot spots". In addition, a vapour alarm will alert you in case of solvent leakage in the thermostat.
Advanced Peltier Technology
The PN4020 with advanced Peltier technology has an extended temperature range from 5°C up to 90°C. Integrated cooling by Peltier elements is most convenient because it does not require an external cooling device and it accelerates cooling-down and warming-up!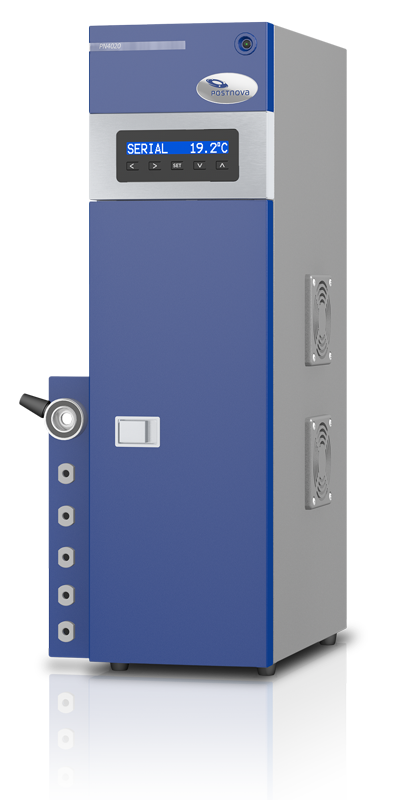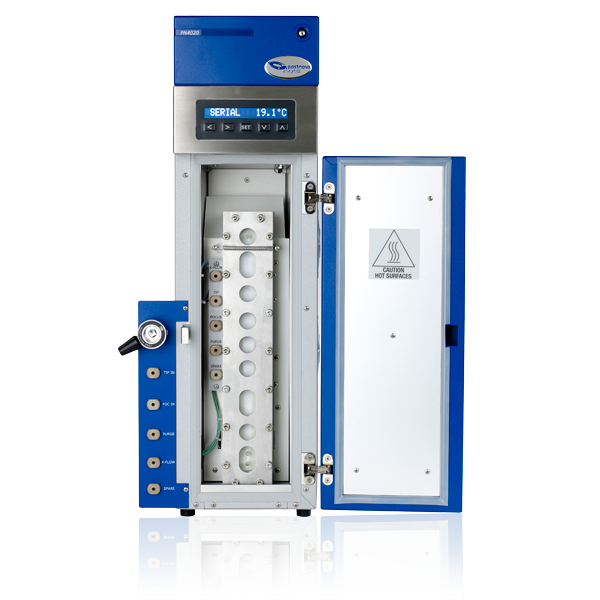 Temperature Range:
5 - 90°C, with 1°C increments
Temperature Accuracy:
Better than 0.1°C
Temperature Stability:
Better than 0.1°C
Temperature Gradient:
Better than 0.2°C
Temperature Reproducibilty:
Better than 0.1°C
Temperature Change:
Up: 10°C/Min. from 40-60°C
Down: 2°C/Min. from 60-40°C
Time Programmable:
9hr59 total time, with 1 minute increments, max. 10 programmable steps
Programmable Temperature:
Up: 0.-5.0°C/min.
Down: 0.1-1.5°C/min.(75-25°C)
Detection:
Vapour sensor with selectable alarm settings
Limiter:
Temperature limit switch at 125°C
Electronics:
Watchdog in FPGA for embedded software check
Communication:
RS232
Dimensions:
HxWxD 600 x 170 x 345 mm
Weight:
16 kg
Power Requirements
115/230 V, 50/60Hz