---
PN1130 Isocratic Pump
The Postnova PN1130 Isocratic Pump is a solvent delivery system which has been specially developed and strictly optimized for the best performance in Field-Flow Fractionation. It employs short piston stroke technology with only two check valves. The working principle of the PN1130 FFF Isocratic pump is shown in the figure.
The nearly pulseless solvent discharge of the PN1130 results from the high stroke frequency/low stroke volume (20 µL) and the use of a compensation piston. While the delivery piston discharges the solvent volume, the compensation piston, located on the pressurized side, collects half of the volume. During the return movement of the delivery piston the collected volume is discharged from the compensation piston.
The microprocessor control speed regulation leads to a highly stable motor speed. In contrast to standard regulators, the microprocessor is able to compensate continuously the compressibility of the eluents through a computerized program.
This results in a constant volume delivery throughout the entire delivery range. The microprocessor technology also offers the possibility to handle the programming, application and control of an instrument in a simple manner. The operation parameters are shown clearly through the alphanumeric display. The user can easily control or change the data. To simplify operation, the number of function keys is kept at a minimum.
Basically, the user has the choice between two operation modes. The delivery with "Constant Pressure" and the delivery with "Constant Flow". The operation modes can be programmed with the following parameters:
Constant pressure in MPa
Constant flow in mL/min
Minimum pressure level
Maximum pressure level
Maximum flow
Compressibility factor
Maximum run time
Delay time
Programmable start delay time and stop delay time.
The Postnova PN1130 FFF Pump is equipped with a built-in diagnostic system. This continuously controls the following parameters:
Power failure
Program memory
Minimum pressure levels
Maximum pressure levels
Maximum flow
Motor function
Incorrect data entered by the operator will be ignored by the processor's logic control and indicated by flashing of the display.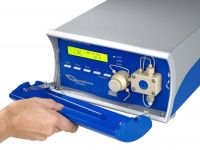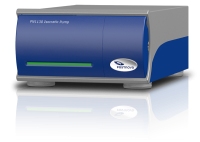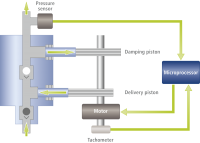 Flow Rate:
Micro: 0.05 to 4.00 mL/min
Analytical: 0.05 to 9.95 mL/min
Preparativ: 0.20 to 40.00 mL/min
Pulsation:
Less than 1 % at 1 mL/min with ethanol and at pressures > 1 MPa (10 bar, 145 psi)
Maximum Pressure:
Micro: 40 MPa (400 bar)
Analytical: 40 MPa (400 bar)
Preparativ: 20 MPa (200 bar)
Display:
LCD alphanumerical 2 x 24 characters
Compressibility Factor:
Select from 0.7 to 1.0
Operation Modes:
Constant flow / Constant pressure
Remote Control:
RS232 + Analog Control Interface (flow, start, stop)
Programmable Run Time:
00:01 to 99:59 h
Programmable Delay Time:
00:01 to 99:59 h
Safety Control:
Minimum/maximum pressure
Power supply
Logical data input
Error Message Transfer:
Potential free relay contact
Acoustic and optic signal
Power Requirements:
100 - 240 VAC @ 50 - 60 Hz, max. 40 VA
Dimensions / Weight:
450 x 270 x 160 mm / 9,5 kg